Desde hace años, tengo mi propia solución antispam, basada en:
– debian
– postfix
– Greylist
– openSPF
– RBL
– Spam Assassin
– MailScanner & MailWatch
Funciona bastante bien y tengo muy pocas quejas, ya que con los filtros de postgrey, descarto de un plumazo el 70% de spam.
Como era de esperar, el servicio de greyList y microsoft no son amigos…. cuando envías un mail por primera vez, devuelves un 4.5.0 try later y en 300 segundos, deberías de volver a intentarlo desde la misma IP, peeeero Microsoft no y vuelve a intentarlo desde otra, con lo que se van sumando así 5 minutos cada vez.
Google, con su servicio bastante extendido (¿quién no tiene un gmail?), hace la entrega desde la misma IP, con lo que el servicio greyList funciona bien.
Como no voy a desactivar el greyList y por fuerza tengo que comunicarme con gente que usa outlook.com o tiene el office365 contratado, tengo que solucionar el problema…. no puedo permitir que un mail tarde 12 horas en llegar.
Googleando un poco, veo bastante gente que se ha dado por vencido y ha acabado desactivando el greylisting, pero si observamos bien, Microsoft tiene unos rangos:

https://technet.microsoft.com/en-us/library/dn163583(v=exchg.150).aspx

Resumiendo: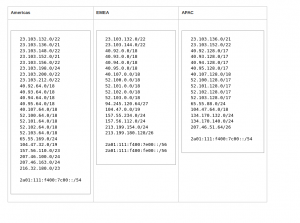 Tengo que hacer un bypass de estos rangos en el greyList.
Vamos a nuestro postgrey:

# nano /etc/postgrey/whitelist_clients

Editamos este fichero y añadimos los rangos de M$

# postgrey whitelist for mail client hostnames
# --------------------------------------------
# put this file in /etc/postgrey or specify its path
# with --whitelist-clients=xxx
#
# postgrey version: 1.34, build date: 2011-05-04
# Debian-specific additions
# I *know* they run real mail queues, so greylisting only creates
# bigger load for them.
23.103.132.0/22
23.103.136.0/21
23.103.144.0/20
23.103.156.0/22
23.103.191.0/24
23.103.198.0/23
23.103.198.0/24
23.103.199.0/24
23.103.200.0/22
23.103.212.0/22
40.92.0.0/14
40.107.0.0/17
40.107.128.0/18
52.100.0.0/14
65.55.88.0/24
65.55.169.0/24
94.245.120.64/26
104.47.0.0/17
104.212.58.0/23
134.170.132.0/24
134.170.140.0/24
157.55.234.0/24
157.56.110.0/23
157.56.112.0/24
207.46.51.64/26
207.46.100.0/24
207.46.163.0/24
213.199.154.0/24
213.199.180.128/26
216.32.180.0/23
2a01:111:f400:7c00::/54
2a01:111:f403::/48
104.47.0.0/17
40.107.0.0/16
/.*outbound.protection.outlook.com$/
/outlook/

Añadimos las ip's al principio.
ahora, para que el postgrey use este fichero, tenemos que editar el siguiente fichero:

# nano /etc/default/postgrey

Y lo dejamos tal que:

# postgrey startup options, created for Debian
# you may want to set
# --delay=N how long to greylist, seconds (default: 300)
# --max-age=N delete old entries after N days (default: 35)
# see also the postgrey(8) manpage
# POSTGREY_OPTS="--inet=60000"
POSTGREY_OPTS="--inet=60000 --whitelist-clients=/etc/postgrey/whitelist_clients"
# the --greylist-text commandline argument can not be easily passed through
# POSTGREY_OPTS when it contains spaces. So, insert your text here:
#POSTGREY_TEXT="Your customized rejection message here"
Una vez hecho esto, nos toca reiniciar servicios….
En mi caso, el postgrey 1.34 con debian 7, el /etc/init.d/postgrey restart no acaba de ir bien, con lo que tengo que acabar matando el servicio con kill 9 y el postfix, de la manera habitual
enjoy 😉